Back to news
> LegalBeagles Group Fixed Fee Price & Ratings Survey
LegalBeagles Group Fixed Fee Price & Ratings Survey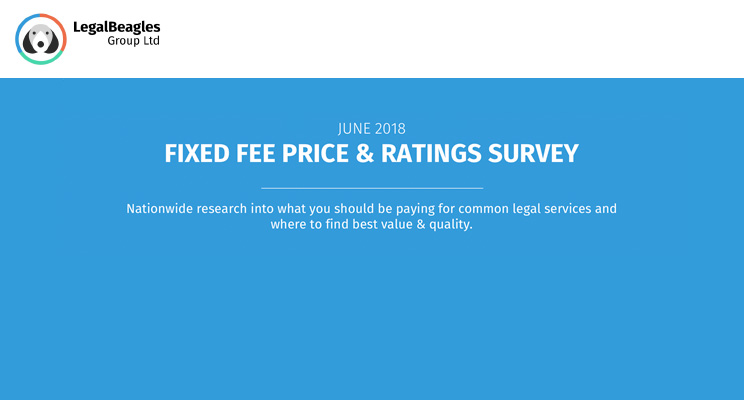 We are very excited to announce the release of our new nationwide research, The LegalBeagles Group Fixed Fee and Ratings Report June 2018.
We are very excited to announce the release of our new nationwide research, The LegalBeagles Group Fixed Fee and Ratings Report June 2018, identifying what consumers should be paying for common legal services and where to find best value and quality across England and Wales. It's online here from today for anyone to take a look and compare fixed fees for services including Divorce, making a Will, Conveyancing or arranging Lasting Power of Attorney. The report is the first real-time picture of the availability of fixed fees, to gauge in June 2018 how easy it is for consumers to shop around and compare services.
Currently only 9.57% of law firms across England and Wales are actually publishing fixed fees on their websites, 7.51% say they do fixed fees, but they don't appear on their website and 26.05% of laws firms have no website or digital presence. Over the next 6 months, we will track fixed fees availability, costs and ratings and publish an updated tracker in December, shortly after law firms are required to publish information on prices and services by the SRA.
People want to find good value and reliable high quality legal services when dealing with life's major events and our research found that despite current low levels of law firm engagement, there is a significant volume of products available across the country and all a consumer needs to do to shop around is search on their mobile device. 58% of law firm billing today is originating from fixed fees but this figure is dominated by conveyancing fixed fees which are only offered upon knowing the nature of the sale or purchase and are not routinely published. Despite such a sizeable proportion of revenue coming from fixed fees, in reality less than 10% of firms are currently publishing any detail on such fixed fee services.
Looking at consumer preferences when shopping around it's clear that higher costs don't necessarily guarantee quality. The biggest consumer insight from the data is that there is a sensible and proportionate mid- price market of fixed fee legal products, 87% of the digital fixed fee products this year fit into the mid-range price category and 57% of those are rated 4/5 stars. Low cost and high cost fare poorly overall in ratings, so there is no evidence of a race to the bottom, but rather a strong indication of a race to the middle.
Our research also benchmarked costs against consumer ratings to see where law firms rated 4/5 star and 3 star and under sit across all three legal services - Divorce, Wills and LPA. Some firms are 5 star on Trustpilot but 3 star on Google, so we brought all their rankings together in one place to give an aggregate of all their ratings from the web. Of these 57% falling under 4/5 star ratings, 18% have no corresponding rating online making it much less likely for consumers to trust and engage firms, based on stated (SRA) consumer preferences for both rankings and price.
For those law firms offering fixed fee products without linking to a ratings site, it's an 'own goal' - so while they will be compliant with the December new measures outlined by the SRA, they will be missing a marketing opportunity to attract new instructions by offering these products with an apparent 'zero rating'.
It's clear from our findings that the 26.05% of regulated law firms with no website or digital presence have a huge opportunity to address their digital presence over the next 6 months and make it easier for consumers to ascertain which fixed fee products they are offering from December 2018. We will be tracking progress and change over the coming months and look forward to sharing more updates with you!